Page <Prev 1 2 3 4 5 6 7 8 9 10 11 12 13 14 15 16 17 18 19 20 Next>
Franklin and Sterling Mines Page 1
The Franklin Mine on Mine Hill in Franklin and the Sterling Mine
on Sterling Hill in Ogdensburg exploited two large separate but very
similar, unique zinc ore deposits. These ancient deposits are located in
the Franklin Marble along the northwestern edge of the New Jersey
highlands in Sussex County, NJ. The main zinc ore minerals, franklinite,
willemite, and zincite, are not found as ore in any other zinc deposits.
The great age of these deposits, about 900 million to a billion years in
age, and the unusual nature of the ores along with their subsequent
geochemical and geologic history have combined to produce a suite
of minerals rivaled by only a handful of other localities worldwide.
Many minerals were first scientifically described from these deposits
and some are known to occur here only. Some are very rare. The
spectacular fluorescent mineral specimens found here are arguably
the best in the world in terms of variety, patterns, combinations, and
strength of colors that happen when these rocks are exposed to ultra-
violet light. The area is truly 'the fluorescent mineral capital of the
world'.
While much mineralogical history was made in the Franklin district,
mineralogy is just one aspect of what made Franklin famous. Precedents
in mining law were set here, advances in mining techniques and tech-
nology were made, and innovative industrial and ore refining processes
were created here. The wealth created by these unique ore bodies be-
came the capital used to exploit other mineral deposits. These pages
contain some examples of the mineral specimens that were found in
these great zinc mines. Please see the links page for further information
on the world famous zinc deposits of Franklin and Ogdensburg, NJ.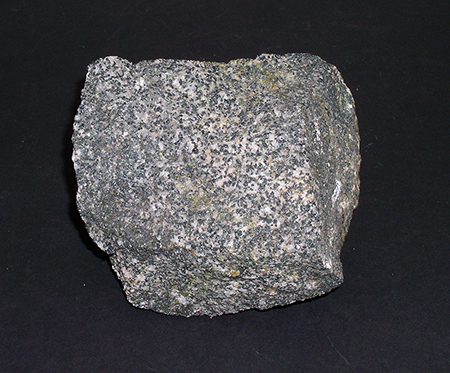 16B01
CALCITE, WILLEMITE - 'COLOR'
NJ Plant #2 site (Mill site)
Franklin, Sussex Co., NJ, USA
Franklin 'color' - the rock that made Franklin famous.
Specimen size: approx. 12.5 cm X 9.7 cm X 9.5 cm.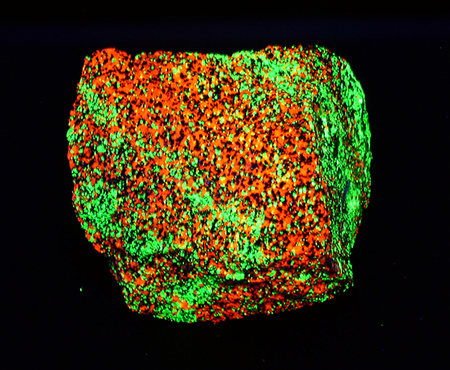 NATIVE ELEMENTS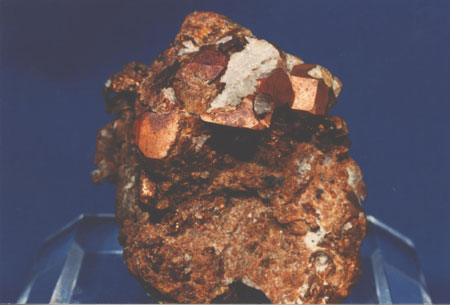 M0876
COPPER
Franklin, Sussex Co., NJ, USA
Copper crystals on hancockite with datolite.
The crystals are shells around cores of datolite
which can be seen in the broken crystal in the
foreground. Copper crystals are rare at
Franklin and these, at roughly a quarter inch,
are larger than most. For those interested in Franklin history, this appears to be an occurrence mentioned by Palache,
citing an example from the Shuster collection, under a discussion on copper crystal habit at Franklin.
(Photo by Gary Grenier)
Specimen size: approx. 4.4 cm X 4.4 cm X 3.8 cm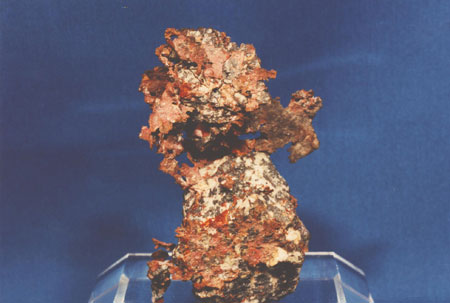 M0449
COPPER
Franklin, Sussex Co., NJ, USA
Sheets of native copper imbedded in typ-
ical Franklin ore consisting of franklinite,
green willemite, and zincite. While not rare,
native copper is uncommon from Franklin
and good specimens are very collectible.
(Photo by Gary Grenier)
Specimen size: approx. 6.9 cm X 3.8 cm X 3.8 cm
Page <Prev 1 2 3 4 5 6 7 8 9 10 11 12 13 14 15 16 17 18 19 20 Next>